PDF Standards CSA C22.2 NO. 45.1:22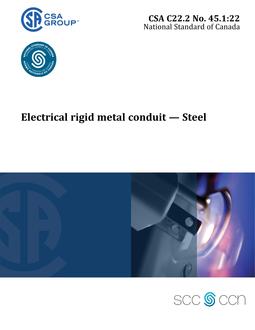 PDF Standards CSA C22.2 NO. 45.1:22
Preface
This is the harmonized ANCE, CSA Group, and UL standard for Electrical Rigid Metal Conduit – Steel . It is the third edition of NMX-J-534-ANCE, the third edition of CSA C22.2 No. 45.1, and the fifteenth edition of UL 6. This edition of NMX-J-534-ANCE supersedes the previous edition published 2019. This edition of CSA C22.2 No. 45.1 supersedes the previous edition published 2007. This edition of UL 6 supersedes the previous edition published 2019. This harmonized standard was prepared by the Association of Standardization and Certification (ANCE), CSA Group, and Underwriters Laboratories Inc. (UL). The efforts and support of the conduit manufacturing industry and the Technical Harmonization Subcommittee for Conduit and Tubing of the Council of the Harmonization of Electrotechnical Standards for the Nations of the Americas (CANENA) are gratefully acknowledged. This standard is considered suitable for use for conformity assessment within the stated scope of the standard. The present Mexican standard was developed by CT Technical Committee 23 Electrical Accessories from the Comite de Normalizacion de la Asociacion de Normalizacion y Certificacion, A.C., CONANCE, with the collaboration of the metal conduit and tubing manufacturers and users. This standard was reviewed by the CSA Subcommittee on Metal Conduit and Tubing, under the jurisdiction of the CSA Technical Committee on Wiring Products and the CSA Strategic Steering Committee on Requirements for Electrical Safety, and has been formally approved by the CSA Technical Committee. This standard has been developed in compliance with the Standards Council of Canada requirements for National Standards of Canada. It has been published as a National Standard of Canada by CSA Group.
Scope
1.1 These requirements cover electrical rigid metal conduit – steel (ERMC-S), elbows, couplings, and nipples for use as a metal raceway for installation of wires and cables in accordance with CSA C22.1, Canadian Electrical Code, Part I, NOM-001-SEDE, Standard for Electrical Installations, and NFPA 70, National Electrical Code (see Reference Item No. 1, Annex A). ERMC-S is provided with a zinc, zinc-based, nonmetallic, or other alternate corrosion-resistant exterior coating and an organic or zinc interior coating. It is the user's responsibility to determine the appropriate product for their application.
1.2 Non-ferrous and stainless steel conduits are covered by the standards listed in Reference Item No. 2, Annex A.
Product Details
Edition:

3rd

Published:

11/28/2022

ISBN(s):

9781488343261

Number of Pages:

45

File Size:

1 file , 1.2 MB

Product Code(s):

2430033, 2430033

Note:

This product is unavailable in Russia, Ukraine, Belarus