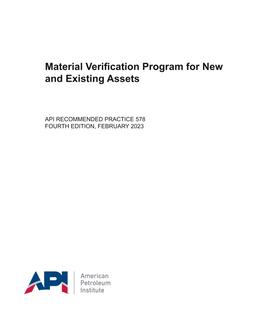 PDF Standards API RP 578
The purpose of this document is to provide recommended practices for an owner/operator to develop and implement a material verification program (MVP) as part of an asset integrity program. The MVP uses positive material identification (PMI) and other testing and administrative methods to verify that the nominal composition of an asset, an asset component, or weldment (or any other tested item) is consistent with the selected or specified construction materials.
A well-designed and well-implemented MVP is an important management system used to minimize the potential for release of hazardous substances due to nonconforming materials of construction.
Product Details
Edition:

4th

Published:

02/01/2023

Number of Pages:

28

File Size:

1 file , 680 KB

Product Code(s):

C57804, C57804

Note:

This product is unavailable in Russia, Cuba, Syria, North Korea, Ukraine, Belarus, Iran