PDF Standards Standard 55-2013, Thermal Environmental Conditions for Human Occupancy (ANSI Approved) and User's Manual Set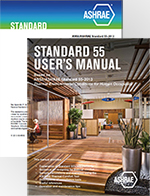 PDF Standards Standard 55-2013, Thermal Environmental Conditions for Human Occupancy (ANSI Approved) and User's Manual Set
Click here to purchase
This package includes both ASHRAE Standard 55-2013, and the corresponding User's Manual.
About ASHRAE 55-2013:
Standard 55 specifies conditions for acceptable thermal environments and is intended for use in design, operation, and commissioning of buildings and other occupied spaces. The 2013 edition of ANSI/ASHRAE Standard 55 incorporates 18 published addenda to the 2010 edition, and provides two compliance methods: a graphic method for simple situations and an analytical method for more general cases. Analytical calculations can be easily performed using the ASHRAE Thermal Comfort Tool software available from the ASHRAE Bookstore.
Since 2010, Standard 55 has been rewritten with a renewed focus on application of the standard by practitioners and use of clear, enforceable language. Requirements are now clearly stated and calculation procedures appear sequentially. For example, during design, a "representative occupant" must be defined, and the air speed and temperature they experience must be an average across the human body at three typical measurement heights. All informative background information has been moved to informative appendices.
Other noteworthy additions to the standard include an allowance for the cooling effect of air movement as a way to extend the upper limit of the comfort zone in naturally conditioned spaces, the addition of a predictive model for occupant clothing behavior based on extensive field research, and major revisions to Section 7 procedures for measuring comfort in existing spaces.
Documentation requirements to show that a design complies with Standard 55 are contained in Section 6, and a sample compliance form is provided in Appendix J. Both of these sections are clarified and streamlined for use by owners and third-party rating systems.
About Standard 55 User's Manual:
This companion guide provides detailed information on the requirements of Standard 55-2013, and includes tables, illustrations, and examples to aid users in the design, commissioning, and measuring and rating of thermal comfort in buildings.
Standard 55 User's Manual does not reproduce the requirements of the standard but rather paraphrases and explains them. Intended to be used in conjunction with the standard, this manual provides
• Information on the intent and application of Standard 55
• Sample calculations and examples using the ASHRAE Thermal Comfort Tool
• Guidance on applying the principles of acceptable thermal comfort and effective thermal control
• Useful reference material to assist designers, owners, and users in efficiently completing a successful and compliant design
• Guidance to building operation and maintenance personnel
• Descriptions of compliance tools
Also included is an exclusive link to the web-based CBE/ASHRAE Thermal Comfort Tool, developed by the Center for the Built Environment at the University of California Berkeley.
This manual is intended for architects; engineers; manufacturers; plan examiners; field inspectors; general and specialty contractors; commissioning agents, raters, and similar quality control specialists; and operation and maintenance personnel.
Product Details
Published:

2016

Number of Pages:

220

Units of Measure:

Dual

File Size:

2 files , 27 MB

Product Code(s):

D-B90129, B90129

Note:

This product is unavailable in Ukraine, Russia, Belarus