PDF Standards IEC 63076 Ed. 1.1 b:2023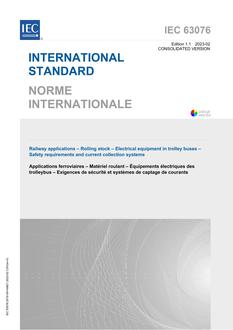 PDF Standards IEC 63076 Ed. 1.1 b:2023
This document applies to electrical systems aboard vehicles of the trolley bus type, as defined in 3.1, fed with a nominal line voltage (Un) between 600 V DC and 750 V DC.
This document defines the requirements and constructional advice, especially to avoid electrical danger to the public and to staff. Where special requirements exist for trolley buses, advice is given for mechanical and functional safety, as well as for protection against fire.
This document covers vehicles intended for public transportation. This document applies to:
– trolley buses without on-board isolation interface from the contact line,
– buses with a current rail for guidance in the road surface,
– guided buses with bipolar roof current collectors.
This document does not apply to:
a) electric driven vehicles fitted only with an internal power supply:
1) hybrid vehicles,
2) diesel-electric vehicles,
3) fuel-cell vehicles,
4) battery-powered vehicles,
b) vehicles with safe protective bonding:
1) rubber-tyred commuter trains,
2) guided buses with power supplied by a separate current rail,
3) rail-guided buses with unipolar roof current collector,
c) vehicles operated outside publicly accessible areas:
1) electrically driven lorries on motorways.
Guidance and current rails are special solutions and, at this time, are not subject to standardization, unlike trolley bus current collectors and overhead contact lines.
This document refers mainly to earthed networks, but reference is made also to galvanically insulated networks.
Product Details
Edition:

1.1

Published:

02/01/2023

ISBN(s):

9782832264768

Number of Pages:

214

File Size:

1 file , 3.6 MB

Note:

This product is unavailable in Ukraine, Russia, Belarus