PDF Standards IEC 60255-1 Ed. 2.0 b:2022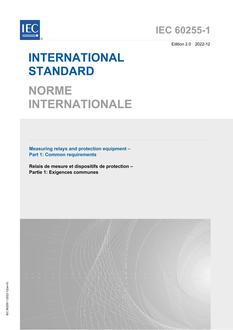 PDF Standards IEC 60255-1 Ed. 2.0 b:2022
This part of IEC 60255 specifies common rules and requirements applicable to measuring relays and protection equipment, including any combination of equipment to form a distributed protection scheme for power system protection such as control, monitoring and process interface equipment, to obtain uniformity of requirements and tests. This document covers the main technologies in use today; other emerging technologies present specific EMC and safety issues but the philosophy in this document will be applied.
All measuring relays and protection equipment used for protection within the power system environment are covered by this document. Other documents in this series can define their own requirements which in such cases take precedence. The typical locations for measuring relays and protection equipment are where protection of electrical equipment is required: generally power stations, substations and industrial locations.
Measuring relays and protection equipment installed in special applications (marine, railways, aerospace, explosive atmospheres, computer centres, etc.) could be enhanced by additional requirements required by that application.
Product Details
Edition:

2.0

Published:

12/01/2022

ISBN(s):

9782832261200

Number of Pages:

96

File Size:

1 file , 1.7 MB

Note:

This product is unavailable in Ukraine, Russia, Belarus