PDF Standards ICC UBC-1997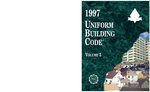 PDF Standards ICC UBC-1997
Click here to purchase
The provisions of the Uniform Building Code are published in three volumes for the 1997 edition to help building inspectors, plans examiners, architects and structural designers locate provisions applicable to their respective fields without the need to search through all provisions.
Volume 1 contains the administrative, fire- and life-safety, and field inspection provisions, including all nonstructural provisions and those structural provisions necessary for field inspections.
Volume 2 contains provisions for structural engineering design, including those design provisions formerly in the UBC Standards. These design provisions have been incorporated into the applicable chapter as divisions of the chapter.
Volume 3 contains the remaining material, testing and installation standards previously published in the UBC Standards.
Product Details
Published:

01/01/1997

File Size:

3 files , 120 MB

Note:

This product is unavailable in Russia, Belarus