PDF Standards BIFMA X5.6-2016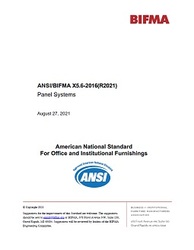 PDF Standards BIFMA X5.6-2016
Click here to purchase
This standard is intended to provide a common basis for evaluating the safety, durability, andstructural performance of panel systems products, such as panels, screens, panel-supportedsystems, access doors and various hang-on components used in conjunction with panelsystems products. Building wall-mounted components are not covered by this standard; theyare covered by the ANSI/BIFMA X5.9 Standard for Office Furniture Storage Units ? Tests.Where a product may be covered by more than one ANSI/BIFMA standard, the manufacturershall determine which standard provides most appropriate test conditions. Where a product isintended for use outside of the commercial office and related institutional environments, it is theresponsibility of the user of this standard to determine if it is suitable for use in such evaluations.
This standard specifies acceptance levels to help ensure reasonable safety and performanceindependent of construction materials, manufacturing processes, mechanical designs, oraesthetic designs. The acceptance levels herein are based on the actual field and testexperience of BIFMA members.
This standard also provides recommendations for acoustical performance of panel systemsproducts, and an Informative Annex that addresses considerations for Full-height RelocatableWall products. The standard defines tests used to determine the acceptability of the productand specifies the acceptance levels of performance. These tests are not intended to assess aproduct that has been in use.
The tests were developed with an estimated product life of ten years based on a single-shiftusage. Product life will be affected by product use, care and maintenance, environment, andother factors. Product compliance to this standard does not necessarily guarantee a ten-yearproduct life. Products may perform longer than ten years with appropriate use and care.
ISO 17025 requirements for reporting uncertainty do not apply when determining conformanceto this standard.
Product Details
Published:

01/08/2016

ANSI:

ANSI Approved

Number of Pages:

121

File Size:

1 file , 2.1 MB

Redline File Size:

2 files , 8.8 MB