PDF Standards BIFMA X5.4-2020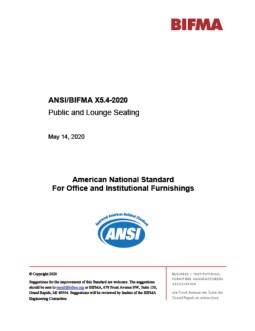 PDF Standards BIFMA X5.4-2020
Click here to purchase
BIFMA X5.4-2020 is intended to provide manufacturers, specifiers, and users with a common basis for evaluating the safety, durability, and structural adequacy of business and institutional lounge and public seating.
Lounge and public seating is normally used in indoor public spaces such as waiting, reception, or gathering areas. Lounge and public seating includes products with single seat units, units with multiple seating positions within one unit or ganged seating units. Lounge and public seating may be restrained from moving by attaching to the building structure or freestanding. These producs are not generally adjustable for personal use. This standard does not address general-purpose or task-oriented office chairs, or seating used for stadiums, auditoriums, lecture rooms, airports/train stations and similar high-use public seating areas.
Product Details
Published:

2020

ANSI:

ANSI Approved

Number of Pages:

123

File Size:

1 file , 2.6 MB

Redline File Size:

2 files , 12 MB

Note:

This product is unavailable in Ukraine, Russia, Belarus