PDF Standards BIFMA SOHO S6.5-2008 (R2013)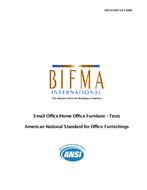 PDF Standards BIFMA SOHO S6.5-2008 (R2013)
Click here to purchase
This standard is intended to provide a common basis of mechanical tests for evaluating the safety, durability, and structural adequacy of storage and desk-type furniture intended for use in the small office and/or home office. The styling, marketing and chain of distribution for these products are intended to address usage in a residential, home office or small office environment. These products may be completely assembled, partly assembled or totally unassembled (often known as RTA or "ready to assemble"), when they leave the control of the manufacturer. When a product is intended for use outside of the small office and home office environments, it is the responsibility of the user of this standard to determine if it is suitable for use in such evaluations.
Tests for: Panel Stability, Panel Mounted Component Weights, Storage Shelf Static Load, Display Shelf Static Load, Cabinet Test, Lateral File Test, File Bin Test, Work Surface Static Load, and Work Surfaces with Supported Drawer Test.
Product Details
Published:

2008

ANSI:

ANSI Approved

Number of Pages:

85

File Size:

1 file , 2.3 MB