PDF Standards ASHRAE 90.1-2010 (SI)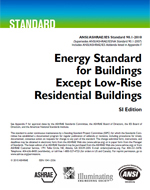 PDF Standards ASHRAE 90.1-2010 (SI)
ASHRAE Standard 90.1 has been a benchmark for commercial building energy codes in the United States and a key basis for codes and standards around the world for more than 35 years. This standard provides the minimum requirements for the energy-efficient design of most buildings and offers, in detail, the minimum energy-efficient requirements for the design and construction of new buildings and their systems, new portions of buildings and their systems, and new systems and equipment in existing buildings as well as the criteria for determining compliance with these requirements. It is an indispensible reference for engineers and other professionals involved in the design of buildings and building systems.
This 2010 edition has been expanded to include new features, an expanded scope, and more detailed requirements, as well as incorporating changes from more than 100 addenda. Here's what's new in the 2010 edition:
Expanded to cover receptacles and process loads
More precise building envelope requirements and mechanical equipment efficiencies
Lower interior lighting power densities
Additional occupant-sensing controls
Mandatory daylighting requirements for specific spaces
A new, five-zone exterior lighting power density table
Clarified and expanded modeling requirements
Also, the 90.1 ECB App is available for modeling compliance with 90.1-2010. Visit www.901ECB.ashrae.org to register and get started.
The 2007 edition is still available for purchase. Click the Related Products tab.
Product Details
Published:

2010

ANSI:

ANSI Approved

Number of Pages:

224

File Size:

1 file , 13 MB

Product Code(s):

D-86269, 86269